Join our Team!
On Saturday May 19th we are holding a tryout to join our competitive team for the 2018/2019 season!
Join us on Saturday June 16th to watch our Spring recreational term athletes perform amazing skills they have been learning!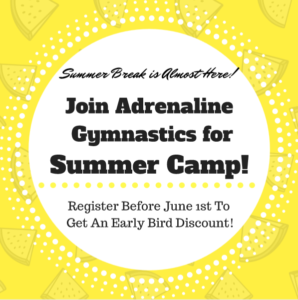 Register into our Summer Gymnastics Camp before June 1st to receive Early Bird Deals!
our facility
Located at the border of  Brampton/Vaughan, we offer competitive and recreational programs for gym enthusiasts. Adrenaline Gymnastics Training Centre (AGTC) is open seven days a week and offers programs for all ages and levels. Whether you are looking to build confidence or interested in raising the next Canadian Olympian, AGTC is here to help those dreams become a reality.
Adrenaline Gymnastics Training Centre
Inquiries, comments and suggestions are always welcome.
(905) 850-8606
agtcgymnastics@gmail.com
177 Zenway Blvd #3, Vaughan, ON L4H 3H9